I've seen some people asking lately, "What is the thing you love most about the Army?" For me, being a spouse, it is the great friends I have made. Friends that I will take with me in my heart to my grave. One of these friends is Amber.
Some may think our friendship strange because she is a soldier and I am a spouse. There are those who have these pre-conceived thoughts that female soldiers don't like spouses and all spouses think female soldiers are whores... yadda yadda... not me and Amber...
Our husbands worked together and the first day I met her was one I will never forget because it was a very important day for me... when I was in the hospital with the twins. We got together a few times after that and then we were pretty much inseparable. In the short time we had together, about 2 yrs, we became very close and shared so many things... moments, memories of our pasts, secrets... Amber helped me in more ways than she probably realizes.
Dexter nights were our thing... we would get some food, either from the Hawiian place around the corner or we would cook ourselves, and we would watch the newest episode of Dexter, every week.
Amber turned me on to my now fave alcoholic drink, Southern Comfort. I remember we went to the bar, "Wild Country", and she asked me did I want a double shot of "SoCo"... huh? What was that? LOL She told me to trust her and I did... she had me hooked, lol.
I miss my Amberz and her kids. That is the thing I hate most about being in the army lifestyle...having to leave those you hold close to your heart...the people who become more like family to you than your own blood. That sucks. =(
Picture time:
Our Drink...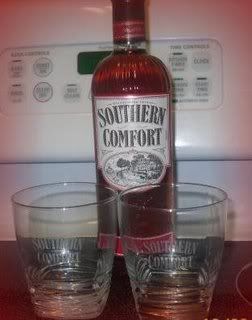 New Years Eve 2008... drunk off our asses... what a night!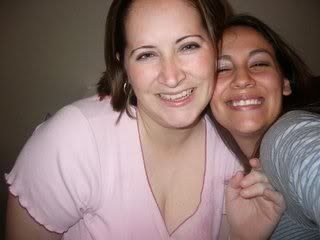 Amber across my counter, her fave spot LOL