....I was about to give birth to our daughter. I was nervous with the births of all my children, but with her the reasons were different.
We were at Fort Carson at the time and I had heard tons of horror stories about army hospitals, like I'm sure all wives have. Before we moved to Carson, I had seen a different doctor at every appointment while at Fort Riley. It was rather annoying, but once at Carson, I had the same midwife for the last 4 months of my pregnancy.
When my boys were born, my mother and my husbands mother and father were all there, but with Alexis, it was just me and Darrell. So, I was scared without my family. We didn't know many people, but thank God for Sister Denietra from my church. She kept the boys while I was in the hospital that night.
It was kind of funny because for 2 months I had been in and out of the labor & delivery section of the hospital thinking I was in labor. It always turned out to be false, even the contractions were strong. That was annoying too!! LOL.
So, the night before she was born, I had been having contractions, but not too bad. Some were hard, others weren't. They were very irregular. I thought nothing of it even though she was a week over her due date. Plus, I had a doctor's appointment the next day to set up a time for induction. I suffered through the night without complaining.
When we got up in the morning we had to go to my WIC appointment and I made Darrell drive because of my contractions. They were getting stronger by that point and while at the WIC office the woman asked me if I was okay. I told her I was fine and it was probably false, but I guess I would find out at my doctor's appointment later that afternoon.
Once we got home from my WIC appointment I had enough time to eat lunch and then head to the hospital. I told Darrell to drive me, but he insisted I'd be fine because the hospital was only 5 minutes down the road. I wanted him to come in case he had questions about the induction, but he stayed home. Off I went.
The time came for my doctor to "examine" me and she was going to strip my membranes again, like she had been doing for the past 5 weeks, every week (ouch). She told me I was having my baby. I said, "I know. When are we going to do the induction?" She informed me there would be no induction and that my baby was coming that night. Apparently I was 7cm dialated and had no clue!! Her "sac" had been cushioning me from the contractions. I was also over half way effaced.
I called Darrell and told him we were having the baby and they were admitting me into the hospital. His brilliant response, "How am I gonna get there?" Now, remember I had told him to come, but he insisted otherwise, and now he was home with no car. LOL. He got my friend Denietra to bring him and take the boys home with her while I gave birth.
Alexis was my first experience with an epidural and I wished I had not been such a chicken before because I realized I should have had one with each of the boys too!! They admitted around 4pm and she was born around 8:30pm. The birth was easy and comfortable. I think Darrell was more traumatized then myself since he actually had to see it. The doctor put him to work holding my leg up....hahahahaaa.
We stayed in the hospital for 3 days and I loved every minute of it! The staff and my nurses were great. They were patient with me with breastfeeding and got me whatever I asked for.
Now, my baby girl, will be 5 tomorrow and entering kindergarten in August. Time flies by so fast. =)
~My first ultra sound pic of her~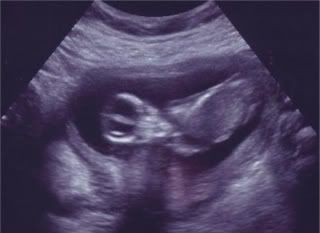 ~My prego belly~
~My Pookie~